The time to ride the wind and break the waves will finally come. Hang the sails high and cross the sea!
time:2022-02-11
Forge ahead with the vigor and vitality of the tiger. Good luck starting work! On 9th February, at the command of Duty general manager Zhang Haiyong, all the employees of Boyu M&E began the intro to 2022 with their heads held high. We maintain our upward momentum in the new year, seize every learning opportunity, break through and innovate, and embrace changes. Before all the staff is ready to run forward with all their energy, let's look at Boyu E&M's hard work results in 2021.
Production, Sales, and Revenue Are All won Grand
Slam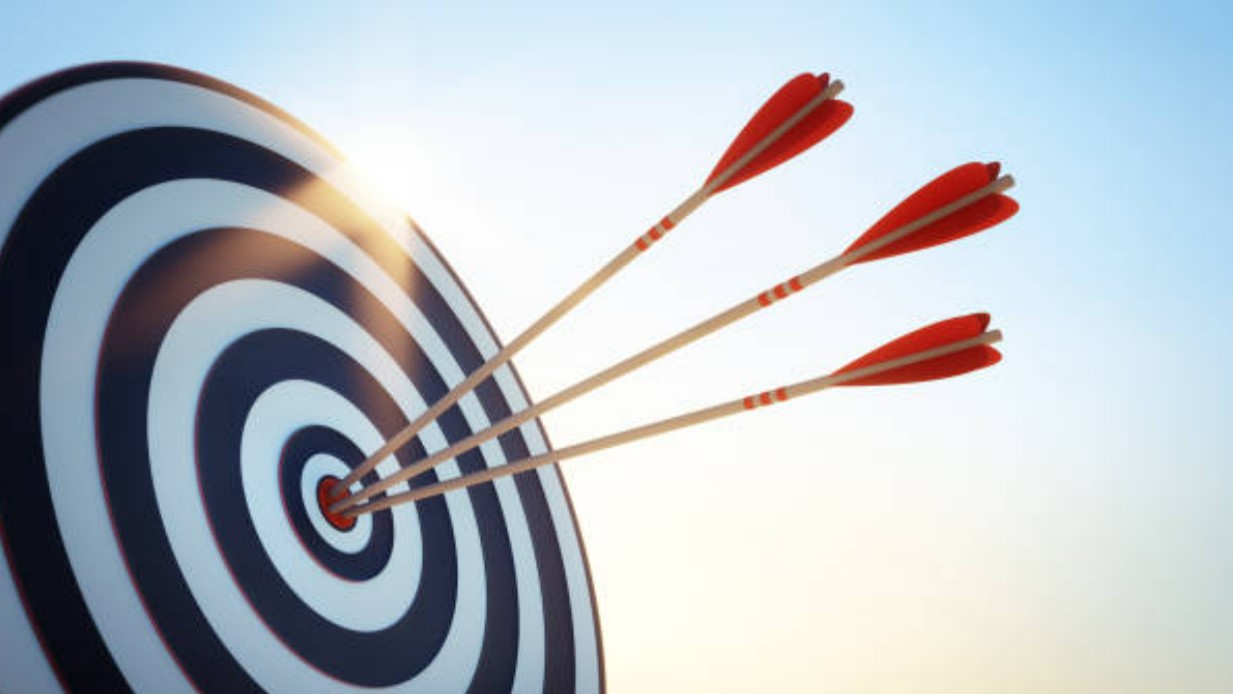 With the joint efforts of the leadership team and all employees, Boyu M&E achieved great success in operating results in 2021 - 64.18% growth in sales revenue, 38.28% growth in sales contracts, and 57.99% outperforming increase in production output. The three essential indicators are all exceeded.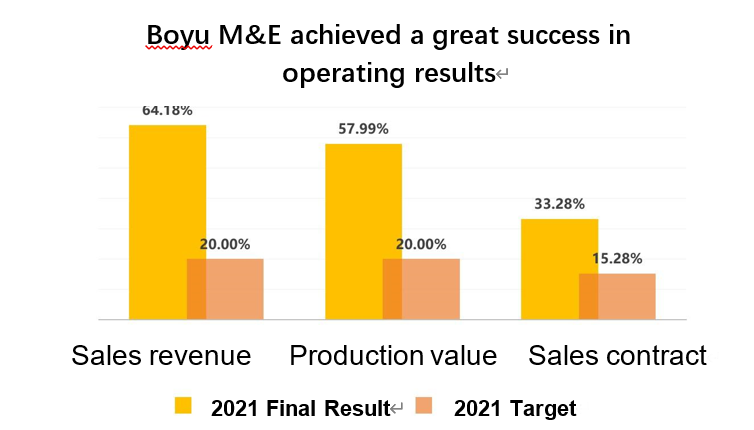 Employees and Boyu M&E grow together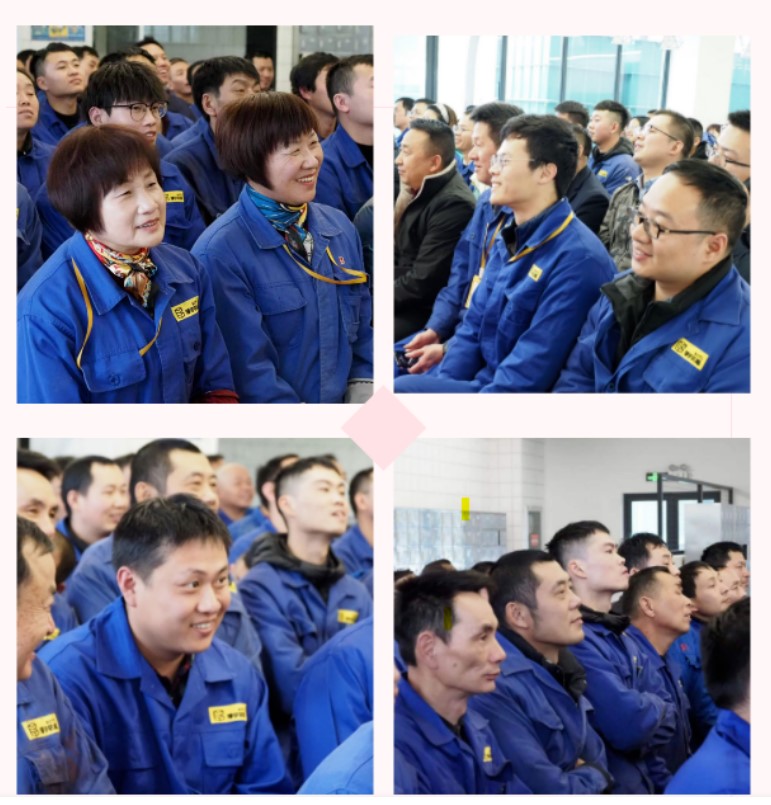 Employees are the cornerstone of a company's development. Boyu M&E always upholds the philosophy that only when employees live well will the company be well. In addition to providing social insurance, welfare and meals, holiday care, an incentive system, and opportunities for further education, there is a well-defined salary adjustment and promotion system. In 2021, Boyu M&E recorded an impressive 21.03% increase in frontline staff income amid the overall economic downturn at home and abroad.
The leader in technology innovation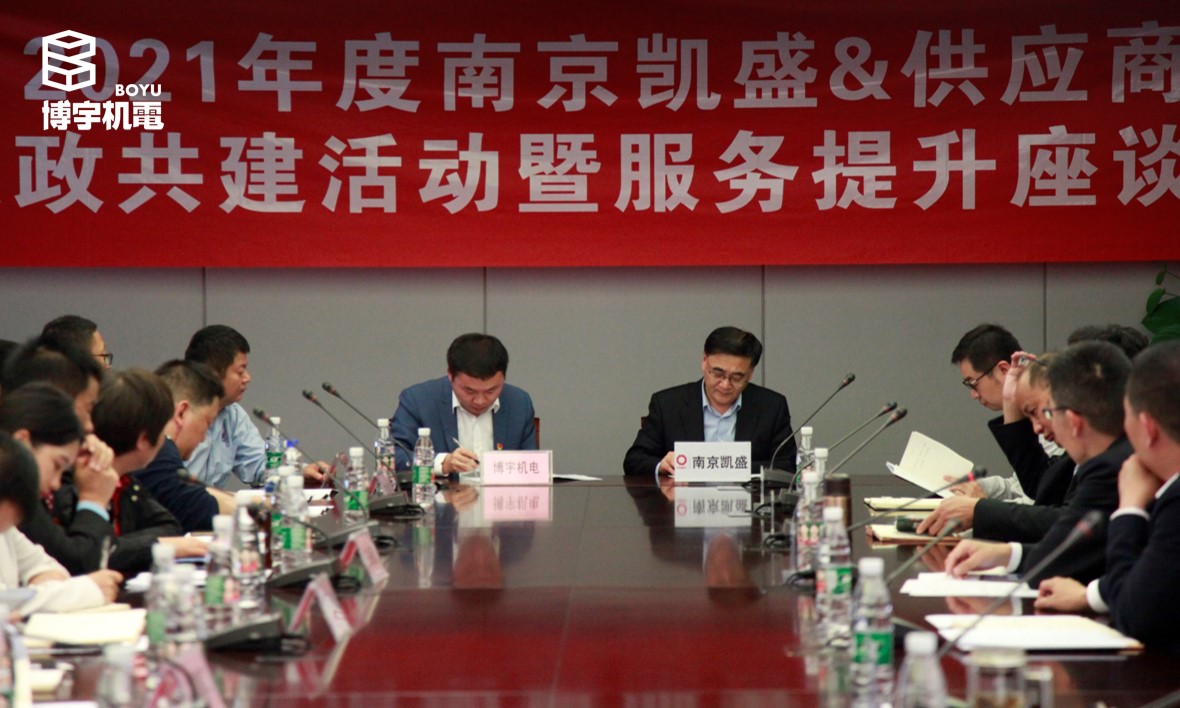 Boyu Mechatronics is currently the world's largest installed power conveyor equipment designer, manufacturer's maintainer, and full-service material handling solutions provider. In the development process, we always uphold the principle of safety, reliability, and technology leadership and are well recognized and trusted in the industry. In 2021, Boyu M&E was recognized as a strategic and critical partner, excellent supplier, and outstanding partner of large groups such as Conch Cement, Sinoma International, Huaxin Cement, and Red Lion Cement.
Cared by provincial, municipal, and district leaders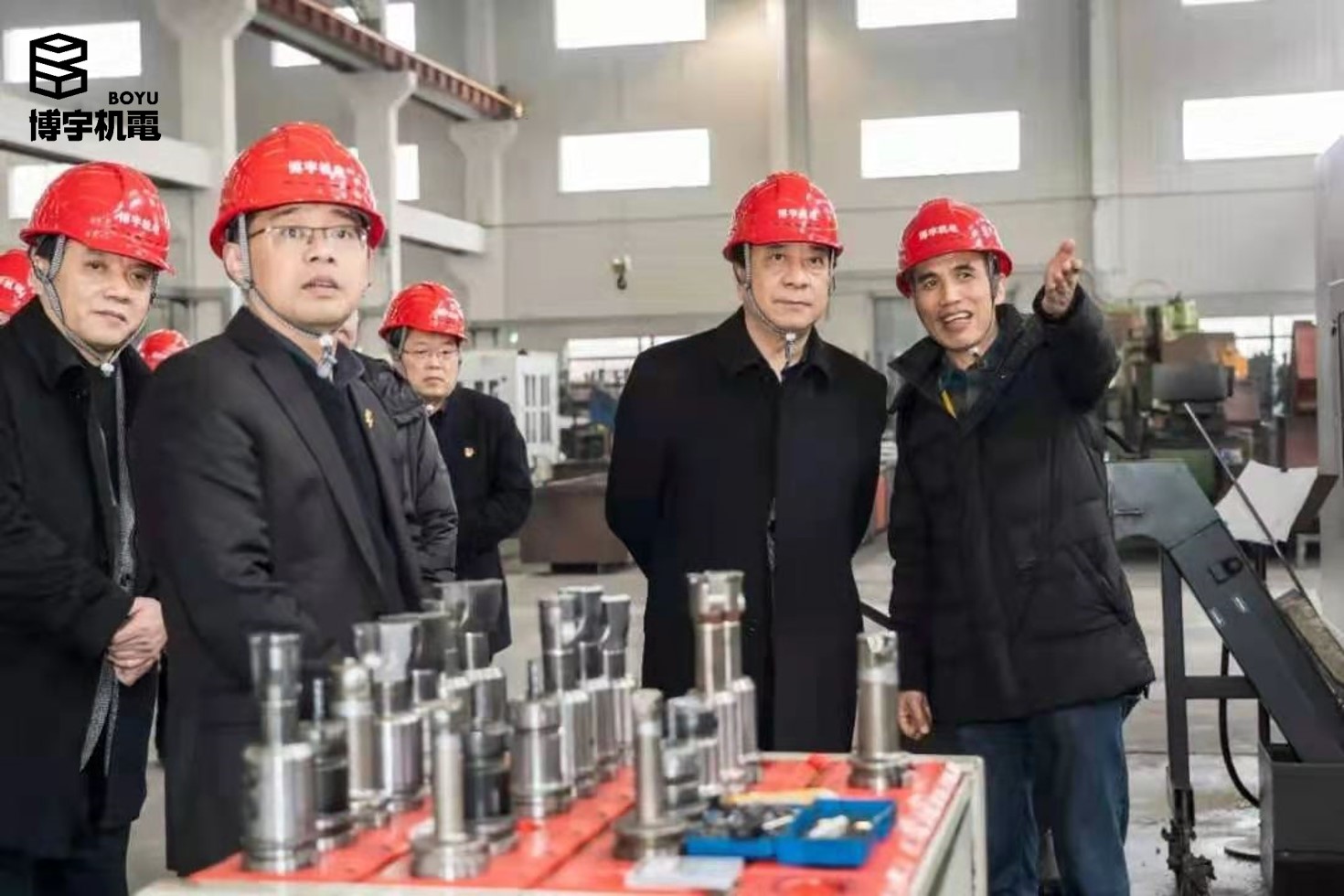 Leaders visited Boyu M&E and carried out the "three services" of going to the grassroots, listening to people's opinions, and solving complex problems. The leaders affirmed our development philosophy of "social responsibility, employee care, craftsmanship, and hundred years of Boyu." They also pointed out that the development process of the enterprise needs to establish a good talent training program, strengthen the cooperation between schools and enterprises, introduce, cultivate and retain talents, introduce modern management, use intelligent warehousing, enhance management efficiency and reduce management costs. Boyu M&E has always kept in mind the entrustment. With gratitude and hard work, we turn the support and care of leaders at all levels into motivation. We embrace changes with actions in the new situation, seize the opportunity, muster total energy, and make more significant contributions to optimize and improve the industry's service standards and quality.
In addition to having dozens of professional certifications, Boyu M&E has also received numerous awards in the construction material industry. In addition to the China Cement Industry Technology Innovation Award, China Cement Top 100 Suppliers, in 2021, Boyu is recognized by indicative awards such as China Top 100 Innovative Construction Material Enterprises, National Construction Material Industry Brand Building Influential Enterprise, and China Cement Industry Top 10 Conveyor Equipment Enterprises for two consecutive years, China Top 100 Most Growing Construction Material Enterprises, and China Top 500 Construction Material Enterprises.
Bilingual Presentation at WCA Global Gala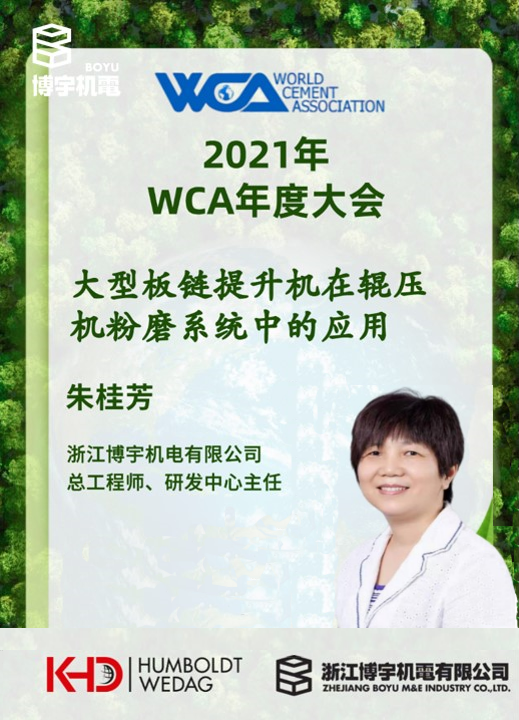 Boyu E&M was invited to participate in the WCA World Cement Association global online bilingual conference in Chinese and English together with world-class enterprises such as German KHD Humboldt-Wedag with 160 years of equipment operation experience, French international industrial engineering group Fives, Israeli software company Seebo that works closely with Microsoft, and China Sinoma International. Zhu Guifang, Chief Engineer and Director of R&D Center of Boyu M&E who has more than 30 years of experience in the cement industry and equipment design and production, gave a bilingual speech at the WCA annual meeting, which was fully recognized and highly appreciated by the participants.
As one of the world's most considerable bulk material conveying equipment manufacturers, Boyu M&E has always been committed to working with our partners and working hard. In 2021, Cui Xingtai - Chairman of China United Cement, Liu Yan - Chairman of Sinoma International, Li Xiaobo - Deputy General Manager of Conch Cement, Shi Zhenming - President of Zhejiang Southern Cement, Meng Weizhong - Deputy General Manager of Shangfeng Group, Diao Liyong - Deputy General Manager of BBMG Jidong Cement Materials Center, and Yan Sibo - general manager of KHD KHD Humboldt Wedag Machinery Equipment (Beijing), all came to visit us and conducted active exchanges.
Boyu's cultural image is born
The cultural image of Boyu M&E represents the values, vision, mission, spirits, principles, philosophy, and the experience of life struggle of every Boyu person in daily production practice. It comes from every one of us at Boyu, the real battle of life every day!
2022 is the year of "breakthrough innovation and advancement" of Boyu M&E. The staff of Boyu will continue the results of joint efforts in 2021, embrace changes with action, continue to innovate and improve our competitiveness in 2022.
The past is history, no matter how glorious it is. Boyu people will focus on moving forward day by day. The year 2022 is the year of "breakthrough innovation and embrace changes" for Boyu M&E. All employees will use the experience we have accumulated together to embrace changes with actions in uncertain times to continue innovating and improving our competitiveness.
back